OUTREACH
Advent Outreach – Sharon Navratil and Deacon Debbie Greenleaf
This ministry's mission is to utilize our time, talent and treasure through outreach to the parishioners and community.
Periodicals – Sharon Gullickson
This is a ministry tied to the Forward Movement which publishes for the Episcopal Church. Samples of their pamphlets are kept available for the congregation in the tract rack in Paine Hall. The most popular publication is "Forward Day By Day" which is published every three months and is to be read daily.
United Thank Offering – Joyce Rozon
The United Thank Offering Ministry stretches through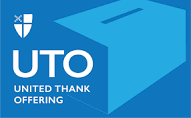 out the world to expand the mission and ministry of the Episcopal Church. It is the sum of our thanks for the everyday blessings that God has bestowed upon us. We are encouraged to drop a few coins into our UTO boxes that we take home whenever we feel grateful for these blessings. The ingathering (collection) occurs every spring and fall.