Ireland: A Celtic Pilgrimage 2022
Booking is now open for Ireland: A Celtic Spirituality Pilgrimage, from Sunday, September 11, returning on Thursday, September 23, 2022.
You are invited to join Advent Episcopal Church on this pilgrimage of Ireland, the birthplace of Celtic Christianity. Together, let us walk in the steps of the Celtic saints who spread Christianity across Celtic lands from the early fifth and sixth centuries, whose influence lasts even today.
Christians from all denominations have been inspired and amazed at the rediscovery of the story of how the Gospel came to Ireland and from Ireland to the British Isles.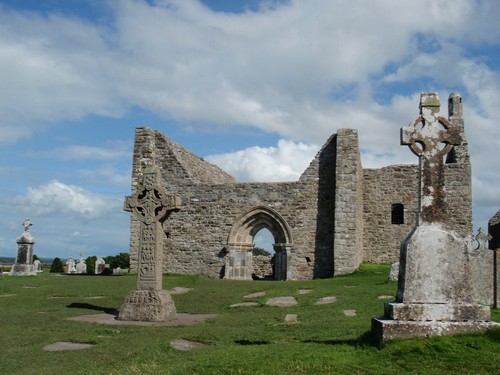 In September 2022, you are invited to join Canon Timothy Dombek and others who travel with us for a twelve-day trip to the birthplace of Celtic Christianity—Ireland, A Celtic pilgrimage. Visit the preeminent places that fostered the Celtic mission that spread throughout the present-day United Kingdom.
We will look at why this Celtic expression of Christianity is so exciting and relevant for today, and why the hierarchy of the church struggled with insights that we are now embracing again.
The attachment contains a detailed itinerary but stops include: Clonmacnoise; founded in 544 by Saint Ciarán, the location of this monastery along the River Shannon helped it became one of the most famous places in Ireland. Other historic places we'll visit include, Kilrush, known as "the Church of the Woods," to hear the stories of St. Columba and St. Brendan; the cliffs of Kilkee; Craggaunowen and the Hill of Slane, where St. Patrick lit the Paschal fire in 433; the town of Kells, where the Book of Kells was written; Down Cathedral in Downpatrick, the traditional burial site of St. Patrick, St. Brigid, and St. Columba; the Hill of Tara; Dunluce and Corrymeela; ending with full days in Belfast and Dublin, from which we fly home.
Once again, the Rev Simon Airey will accompany us on our journey. A professional storyteller and a member of the Northumbria Community, these stories have shaped Simon for over 20 years. He is an Anglican priest who pastors three churches in a yoked ministry. Simon lives on the wild marches where England meets Wales with his wife, two children, and a variety of animals.
If your trip begins from a place other than Arizona, please contact Betty Ann Buckley from ALPHA Christian Tours at (919) 783-8714 or by email: This email address is being protected from spambots. You need JavaScript enabled to view it. to arrange roundtrip airfare from your nearest major airport.
Book early to avoid disappointment, as seating is limited on this 13-day pilgrimage. If you have any questions, do not hesitate to call me at (623) 584-0350.
Peace and good things,
Canon Timothy+